System of online-questionnaires has been successfully implemented in ICT-Marketing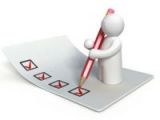 For company ICT-Marketing year 2012 became the year of brisk growth of the company clients' demands for online-questionnaires during survey of physical and legal entities. The system of online-questionnaires implemented by ICT-Marketing is of great operability and gives the possibility to solve some of the clients' important problems:
Optimization of survey terms and costs  
Possibility of active use of visual materials (photographs, services description, b-rolls) which is
most significant when testing concepts, packing and advertising materials 
Possibility to create questionnaires of any complexity with complicated overall logic
Possibility to control work progress of a research company on a daily's basis with the help of a special supplement for clients displaying real-time inquiry statistics.  
Possibility to get intermediate data of inquiry at any time.
Possibility of integration with any kinds of social nets and use of internal e-mail addresses database for recruiting respondents
Please contact  our company to get more detailed information.